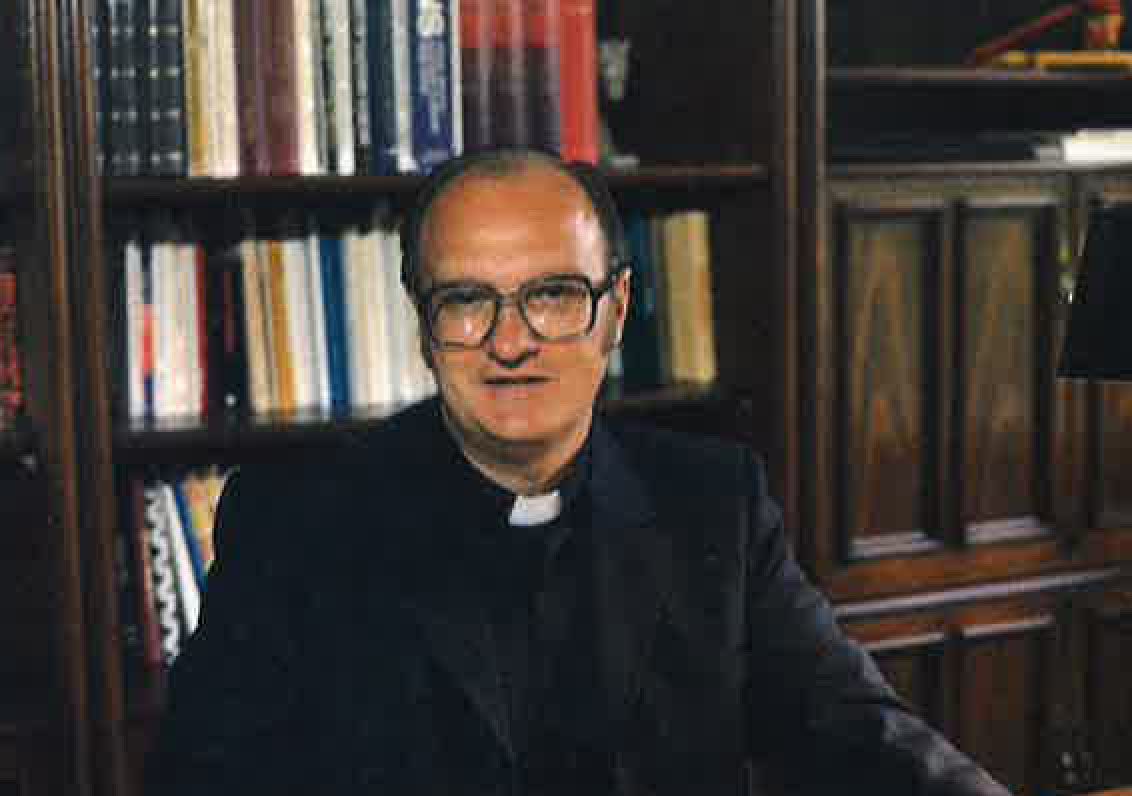 Innovative Visionary
As a young priest, Father John Tataryn visited nursing homes and was very concerned. He saw many Ukrainian Canadian seniors in nursing homes who had no one to talk to in their mother tongue and no one to share their religious and cultural heritage with. Determined to rectify this situation, Fr. John came up with a vision of a seniors apartment building and nursing home, where seniors of Ukrainian descent would be able to live in the traditions they are accustomed to, speak their language, have their well-loved ethnic food, and celebrate  their cultural and religious holidays.
29 June 1979 marks the beginning of St. Demetrius (Ukrainian Catholic) Corporation, a charitable organization dedicated to meeting the needs of senior
Inspired by the innovative vision and insightful leadership of Fr. John Tataryn, community leaders of the St. Demetrius Parish come together to establish a charitable organization, i.e. St. Demetrius (Ukrainian Catholic) Development Corporation to meet the needs of the community's seniors.  The organization's purpose is to build, develop and operate residences for the aged, and deal in services of charitable nature for the persons within the community.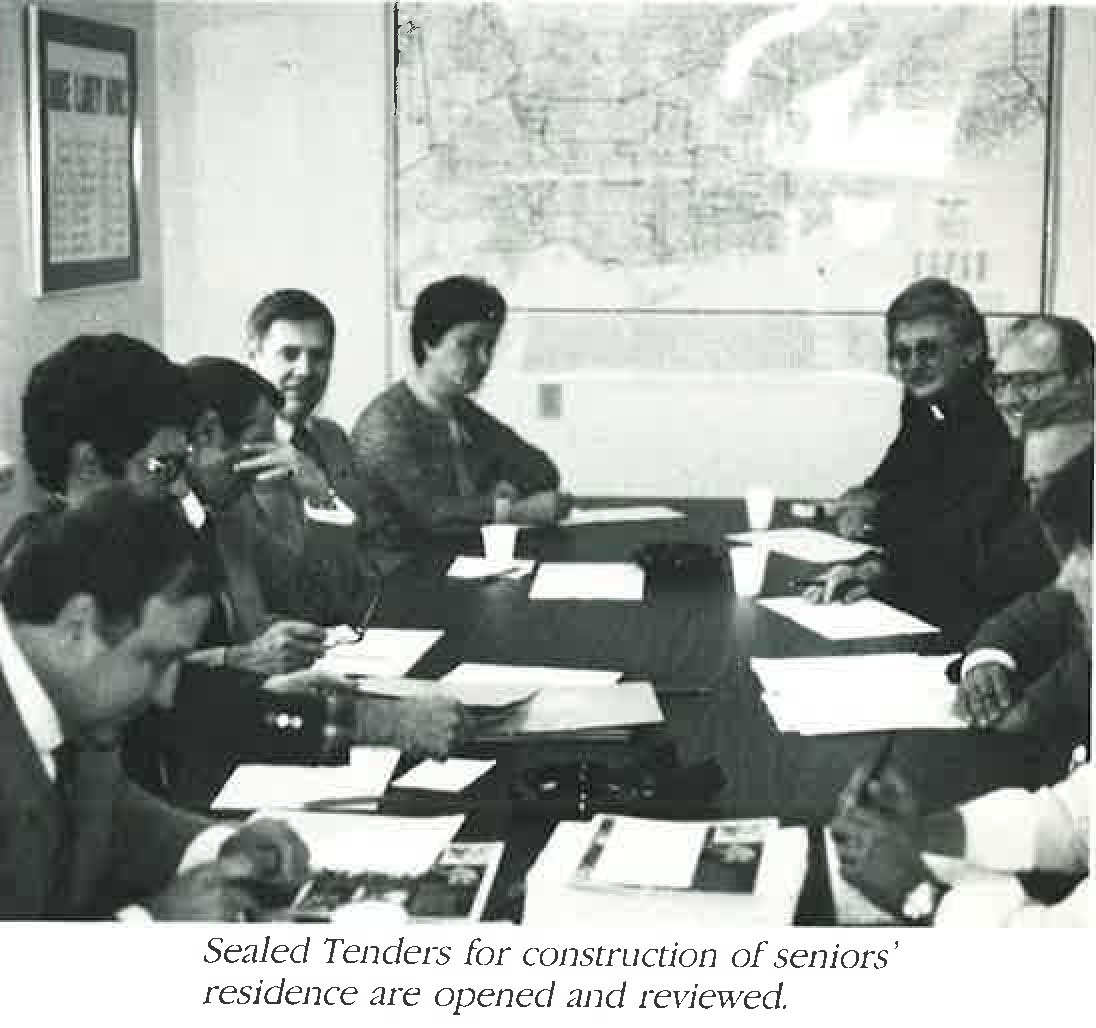 September 18, 1980 – Building Campaign Begins
An official Building Campaign Launch is held to promote the need for financial assistance from the community in order to meet the construction costs of the proposed 259-Unit Senior Apartment Building.
1980 Construction of the Apartments Begins
May 2, 1982 – Blessing and Opening Ceremony
The parishioners of St. Demetrius and the Board of Directors of the St. Demetrius Development Corporation cordially welcome the community to the blessing and opening ceremonies of St. Demetrius Residence. The St. Demetrius Senior Residence is blessed by Bishop Isidore Borecky and the ribbon-cutting ceremony is performed by Mayor of Etobicoke, The first tenants are welcome.
1982 – St. Demetrius Residence is Completed
The St. Demetrius Residence is completed with 259 unit apartments.
1985 - The Beginning of a New Dream
An Ad Hoc Committee, spearheaded by St. Demetrius parishioners, is created to build a nursing home for seniors of Ukrainian descent.
8 Years of Advocacy and Community Awareness - A long and arduous road to obtaining a license for an ethnic nursing home
It takes eight years of advocacy, lobbying, consultations with government and collaborations with other ethnic organizations, until ethnic nursing homes are regulated and a license is obtained to build the Ukrainian Canadian Care Centre.
The Building Campaign – Community Raises Funds
With the goal to fund the construction of the Care Centre, enthusiastic, supporters  canvass and organize events and walk-a-thons to raise funds from community members.  The community shows remarkable determination and resolve. The funds raised allow for the start of the construction. Fundraising continues.
August 1991 - Construction Begins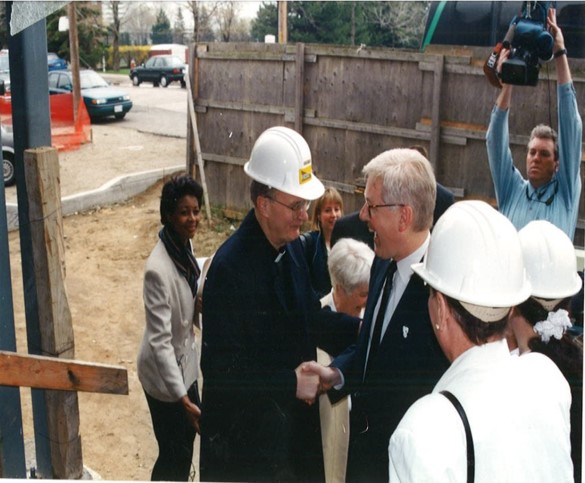 With Government Help
Yet, more funds are needed.  With the advocacy of dedicated community leaders, $2.5 million are secured from our provincial government. Construction continues.
Opening Our Doors and Hearts -January 19, 1996
The Care Centre opened its doors for 120 seniors. Volunteers and donors celebrate the great spirit, strength and accomplishments of the community.  The first residents are welcomed.
Melnyk Family Memorial Chapel - June 16, 1996
The Ukrainian Catholic and Ukrainian Orthodox  community gather at the chapel blessing ceremony. Dedicated to Mary Mother of Consolation,  for 25 years now the Melnyk Family Memorial Chapel has provided comfort and spiritual solace to our residents, their families, friends, staff,  volunteers and community members.
Home with a Heart Campaign Launched - October 29, 2005
The community  gathers again to complete the 4th floor and build a 4 storey tower to allow for dining on each floor.  A license for 32 beds on the 4th floor to care for seniors with cognitive disorders is secured and fundraising begins.
Groundbreaking - July 16, 2006
Construction of the Tower and 4th Floor
32 beds constructed along with a new elevator
Celebrating the opening of the Michael and Sophia Witer Special Care Unit and the completion of the four storey tower - October 4, 2008
In three short years, the community achieves what seems impossible! The addition of 32 beds, the tower is built and all ready. The community gathers to celebrate the opening and blessing of the new additions to the Care Centre. The Care Centre expands its capacity to take care of seniors with cognitive impairments such as Alzheimer's and other forms of dementia.
2012 – Expanding Our Reach, Meeting A Rapidly Growing Need for Programs and Services for Seniors Living in the Community
St. Demetrius Development Corp. commits to developing new programs and services to meet the evolving needs of  a growing population of seniors aging in place.  A Recreational and Social Program for seniors aging in place is created, to offer seniors physically and mentally stimulating activities and opportunities for socialization and friendships. Friendly visiting and reassurance calls program provides companionship and support to isolated seniors, and  help them re-engage  in recreational activities and renew their sense of belonging to a supportive community.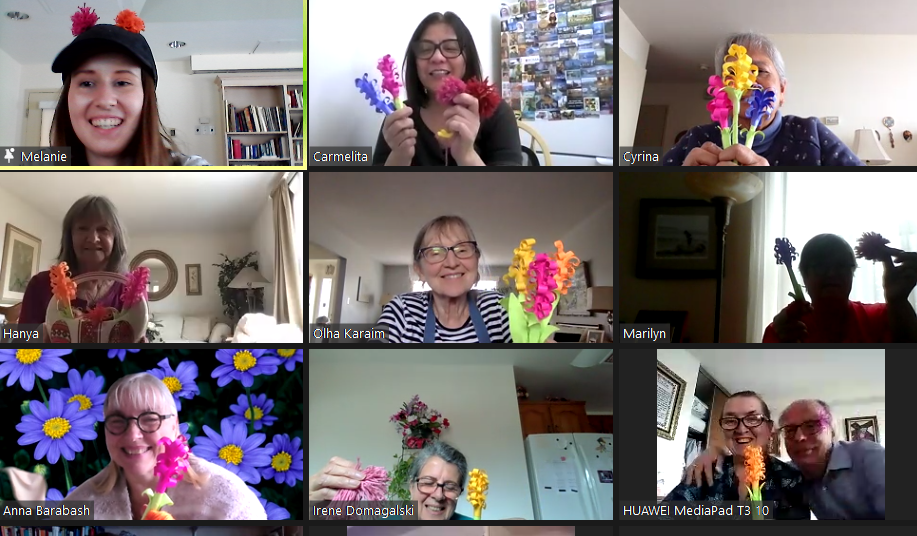 2020 – The " Stay Connected" Recreational and Digital Skills Building Program is Created to fight Isolation and Loneliness of Seniors During the Pandemic
Recognizing the huge detrimental effect the pandemic restrictions have on the physical and mental health of many seniors living in the community,  the St. Demetrius Development Corporation launches an innovative program to help seniors use the power of technology to stay safe, connected and engaged. Through one-on-one digital skills coaching sessions, lending free tablets with data, and providing recreational programs and education workshops, specially designed for the learning styles of seniors,  our community engagement team keeps seniors living in the community, safe, engaged, connected and supported. The Stay Connected Program becomes the lifeline of many isolated seniors during the pandemic.
We belong to the Community
Over the years, the St. Demetrius Development Corporation grew to offer a wide range of care, programs and services for seniors. Today, we pride ourselves on being a shining example of high quality long-term care and innovative programs and services for seniors.
Underpinning our care and services is a shared community vision of caring for our community's seniors with love and respect for their unique lives and contributions to the prosperity of our society.
Our history of development is a history of remarkable community involvement. It is the faithful support of our community of donors and volunteers, which have made our achievements possible.
We cherish and uphold our community values of compassion and caring for one another, as we strive for excellence in our care and services, and we look forward to meeting the evolving needs of our community's seniors.
We belong to our community.
Stay Informed, Sign-Up for our E-news!